My Book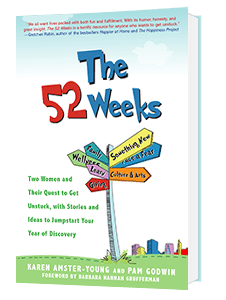 Buy the Book
The Inspiring, Humorous, and Practical Companion for Any Woman Ready to Get Better, Get Moving, or Just Get Over It!
Three Drinks, Two Friends, One Year . . .
Edging into forty-something, Karen and Pam found themselves in a state of stuck. They had checked off many of their major life goals—career, husband, children, friends—but they lost momentum. After griping over drinks one night, they came up with a plan to face their fears, rediscover their interests, renew their relationships, and give back to the community.
They challenged themselves to try one new thing every week for a year—from test-driving Maseratis to rock climbing to dance lessons—and to blog about their journeys.
Getting unstuck doesn't have to mean running a marathon, traveling the world, or moving to another city. The 52 Weeks is all about taking small steps to keep growing, learning, and achieving at any age.