Over the years Karen has won a number of prestigious awards for marketing and public relations. A few of them are highlighted below.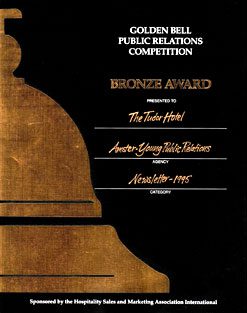 HSMAI Golden Bell Award (Hospitality Sales and Marketing Award)
Bronze for Tudor Hotel Newsletter
Since 1927, The Hospitality Sales and Marketing Association International (HSMAI) has been providing a professional forum for leaders and innovators of the hospitality industry and its related industries. It is comprised of nearly 5,000 members representing 79 chapters in 35 countries worldwide. The awards recognize excellence in hospitality PR and marketing.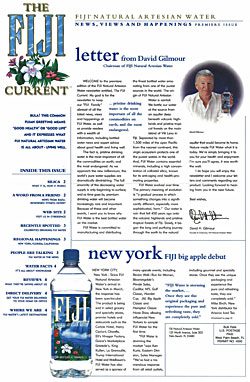 Galaxy Award
Gold for Annual Product Service and Marketing for FIJI Water Newsletter, "The FIJI Current"
Silver Award for Special Event
Bronze Award for Publicity – Southport Westport Antiques Show
The Awards Competition is sponsored by MerComm, Inc., founded in 1987 with the principal purpose of advancing the arts and sciences of communications in an international arena. The organization strives to establish and promote high standards of individual and collective achievement by way of recognizing the multi-disciplines involved in professional communications. The GALAXY Awards honor the professionals who contribute to the process of building image, creating profit, and making a difference in the market place.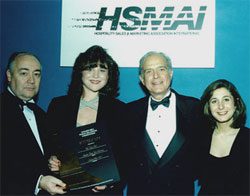 Inside PR CIPRA Award
Creativity in Public Relations
Details of the work associated with the awards above and others available upon request