Every year, it seems, an exciting new New York boutique appears on the scene. Its principal is usually someone with big agency experience who believes that a small agency can offer the same quality of service with greater creativity and less bureaucratic hassle. This year's brightest newcomer is a small outfit headed by Ketchum and Lobsenz-Stevens veteran, Karen Amster-Young. – AGENCY REPORT CARD 1997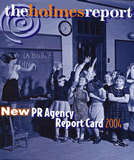 Published annually, the PR Agency Report Card is one of the most comprehensive reviews of agencies and their work.
Profiling 150 leading PR firms, industry expert Paul Holmes reviews select agencies and cites their strengths and weaknesses in this comprehensive review. Over the years, Amster-Young was featured in a numerous trade press, including the following Agency Report Cards.
Inside PR