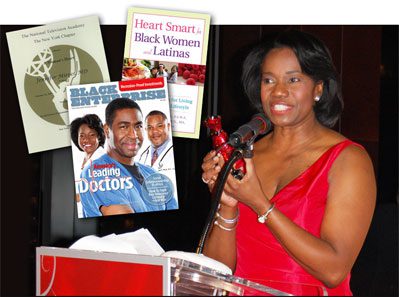 I was contacted by top cardiologist Dr. Jennifer Mieres to organize and execute a media relations plan. Dr. Mieres serves as an Associate Professor of Medicine and the Director of Nuclear Cardiology at The Leon H. Charney Division of Cardiology at NYU. Dr. Mieres is routinely called upon by the media to comment on heart health, appearing in national and local media outlets on such programs as "20/20", the "Today Show", "Good Morning America", "Today in New York", "CBS Early Show", "CNN" and many others.
As of June, 2010, Dr. Mieres joined the North Shore-LIJ Health System as the Chief Diversity and Inclusion Officer and Medical Director of the Center for Learning and Innovation.
Samples of Work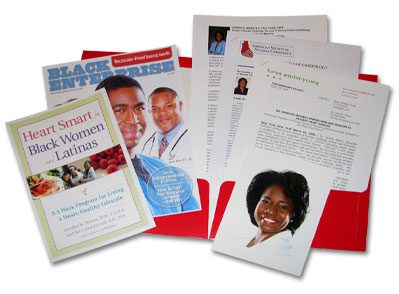 The PR Challenge
Although Dr. Mieres is routinely called upon by the media to comment on heart health she is often appearing on behalf of the American Heart Association or other organizations. Dr. Mieres was determined to further establish her name in her own right particularly since her first book, Heart Smart for Black Women and Latinas: A Five Week Program for Living a Heart- Healthy Lifestyle, was published by St Martin's Press. The publisher supported the launch with some PR efforts but Dr. Mieres wanted to augment those efforts with a campaign of her own. Messages about heart health were important regardless of how they are delivered; however it was time to begin establishing Dr. Mieres as a top cardiologist with her own brand.
What We're Doing
To effectively further establish Dr. Mieres as a premiere expert and media personality, we brainstormed about a moniker to use for her going forward and coined the name The Heart Smart Doctor ™. It also worked to begin "organizing" her many media appearances. More important, it further built her image as a premiere physician who is media savvy and available for appearances to provide valuable information and insights about heart health. The timing is critical: Consumers are seeking more and more health information from the press. On-air medical correspondents are the conduit through which many people get their information. Successful shows like "The Doctors" (a new break-out hit on CBS) and the popularity of Dr. Oz on Oprah demonstrates our insatiable appetite for relevant, valuable information delivered by charismatic experts. Dr. Mieres is poised for such visibility.
Our budget was limited but we kicked-off her personal campaign about heart health in summer with a Radio Media Tour focusing on key markets. Her book was the primary focus and provided us with the ideal vehicle to deliver key messages about staying heart healthy.
Results
Results included airings on national and local radio networks, including USA Radio Network, Voice of America and many stations reaching local markets nationwide. Since this tour I have provided Dr. Mieres with PR counseling prior to major media appearances and routinely guide her as needed with her busy schedule as the first female president of the American Society of Nuclear Cardiologists (ASNC), active involvement with the American Heart Association and her endless lectures and appearances.
Staying focused on establishing her as The Heart Smart Doctor, additional PR activities include but are not limited to:
Writing and creating press materials to provide journalists with her background information.
Working with writers and producers (story ideas, broadcast segments)
Arranging and securing one-on-one meetings for her with key media executives and journalists
Providing media training and talking points for select media and other appearances
Creating and editing a comprehensive visual presentation DVD that works to organize her rich history of appearances and demonstrates her media-savvy.
Additional details about our work together are available upon request.